I sure love giveaway and I am taking part in first giveaway which held at
http://freeze3006.blogspot.com
So here's what you're in with a chance of winning: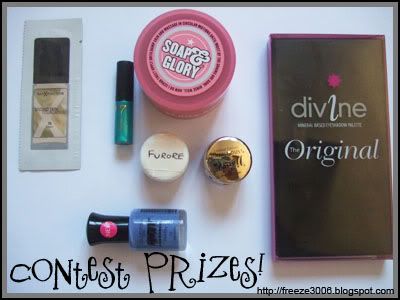 :: Sleek i-Divine Palette- 'The Original'. This one is often underrated in favour of the limited edition ones!
:: Barry M Limited Edition Dazzle Dust (it's a medium purple colour but as far as I'm aware hasn't got a name).
:: Soap & Glory 'Flake Away' body scrub (50ml size tub)
:: Collection 2000 Hot Looks nail polish in 'BMX Bandit'
:: Sample size of No7 Stay Perfect liquid liner in 'Jewel' (my favourite coloured liner!)
:: Sample (approx 1/4 teaspoon) of Illamasqua Pure Pigment in 'Furore'
:: Sample sachet of MaxFactor Second Skin Foundation in 'Golden'
A couple of things to note; the Illamasqua pigment sample is straight from my own full-size one. Secondly, the foundation sample came from some samples I was sent by MaxFactor last week but I know this one would be way too dark for me. If you win and you know it won't match your skintone either, just give it to a friend :) it's not going to do me any good sitting around here!
What do I have to do?
I thought it might be nice for us to think about something not related to our looks. To enter, comment and tell me something you're really proud of yourself for. It could be exam results, it could be helping an old lady cross the road, it could be raising money for charity, anything. Just tell me something you're proud of yourself for! :D
Be sure to include your email address at the end so I can contact you if you win.
Rules
:: You MUST be a follower! Doesn't matter if you're not already a follower, you can start now. :)
:: Anyone in any country can enter (dependent on your country's laws on receiving cosmetics from overseas)
:: To gain an extra entry, follow me on Twitter (@donotrefreeze) and tweet about this giveaway
:: To gain another extra entry, mention this on your blog (just slip it in at the end of a post, you don't need to make a whole new one).
:: Make sure to mention in the comments if you Tweet or Blog about this, with links so I can check :)
:: The winner will be drawn from either random.org or the old fashioned way from a hat on the 17th of September. That gives you exactly 3 weeks to enter. Go go go!
To take part this first giveaway, just click on
this link
.